First of all, I've checked How To Easily Add Product Variants To Your Clickfunnels 2-Step Order Form? but could not find the answers that I was looking for.
Problem > for some reason, the complete order button keeps hanging on 'Processing…'
I also can't make a test purchase with Stripe > after clicking complete order, I see '#submit-form' added in the URL, but it stays on the same page (order form).
FYI - I'm using ClickFunnels and Funnelish.
Please let me clarify:
I want to sell tees in CF in different sizes, so I activated 'Fancify' on the App level and on the Funnel level and I've created variants on the product level in Funnelish. This is what it looks like in CF: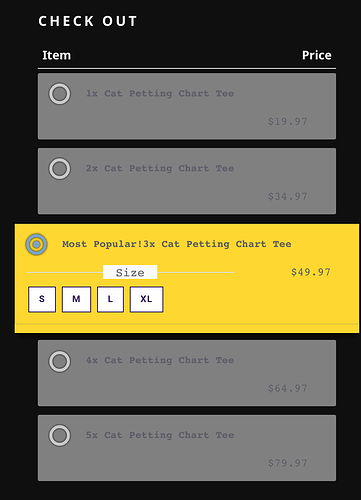 Because I want to highlight the 'Most Popular' quantity option, I chose to keep these options as separate rows, and I only want ppl to make 1 purchase decision.
Additional question: How can I make the variant option to be required?
If you need extra info, please let me know!